Innovation & Design aus Ostwestfalen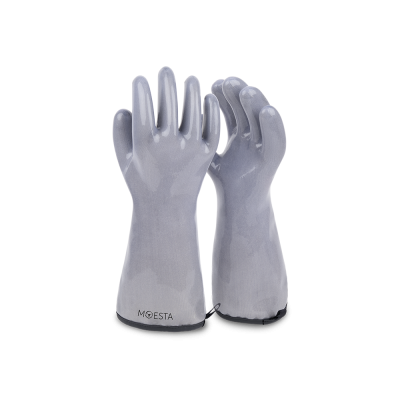 HeatPro Gloves Hitzehandschuhe aus Silikon - Vorbestellen
Grill oder Hitzehandschuhe neu gedacht!Unsere HeatPro Hitzehandschuhe sind die perfekte Lösung für jeden, der gerne kocht, backt oder grillt. Hergestellt aus hochwertigem und hitzebeständigem flüssigem Silikon, einem der fortschrittlichsten Materialien für Ofenhandschuhe auf dem Markt, bieten sie eine bequeme Passform und hervorragenden Halt, selbst bei nassen oder öligen Oberflächen.Das flüssige Silikon läuft um die Außenseite einer 3D-Handform herum, um die Handschuhe mit biegsamen Fingern zu formen, die in Textur und Design weicher und formbarer sind als steife normale Silikonhandschuhe, die mit einer 2D-Form hergestellt werden und die Form der Handschuhe begrenzen und fixieren.Unsere HeatPro Hitzehandschuhe können Temperaturen von bis zu 250 Grad Celsius standhalten und kurzzeitig sogar bis zu 300 Grad Celsius widerstehen. Mit ihrer rutschfesten Oberfläche und der flexiblen Passform sind unsere Handschuhe bequem und einfach zu tragen. Sie sind auch BPA- und latexfrei, ideal für Menschen mit empfindlicher Haut.Ein weiterer Vorteil unserer HeatPro Hitzehandschuhe ist, dass sie maschinenwaschbar sind. Dies erleichtert die Reinigung und sorgt dafür, dass sie immer sauber und hygienisch sind. Endlich können Sie mit unseren HeatPro Hitzehandschuhen auch das Fleisch oder andere Lebensmittel direkt anfassen und problemlos wenden, ohne sich zu verbrennen.Ob Sie ein erfahrener Koch oder ein Hobbykoch sind, unsere HeatPro Hitzehandschuhe bieten eine bequeme und praktische Lösung für alle, die ihre Hände vor Hitze und Verbrennungen schützen möchten. Egal, ob Sie den heißen Topf vom Herd nehmen oder das Backblech aus dem Ofen holen möchten, mit unseren HeatPro Hitzehandschuhen können Sie sicher und bequem Ihre Speisen transportieren.Um die richtige Größe zu finden, lade hier unseren Größenermittler herunter.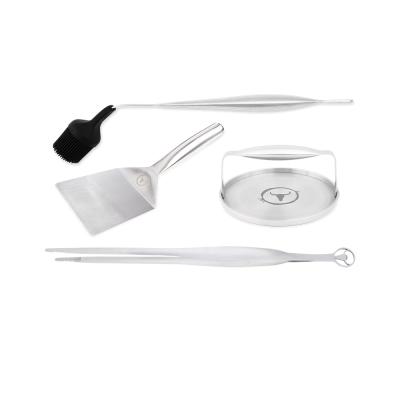 SIMPLE BBQ Tongs 58cm stainless steel
The Simple BBQ tongs are an essential tool for any barbecue lover who wants to take their grilling skills to the next level. The slim design of the tongs allows you to turn your barbecue food precisely and gently without crushing or damaging it. The tip of the tongs has a special serration that allows you to safely grip and turn even the smallest foods such as sausages or vegetables.The tongs are made of high-quality stainless steel, making them robust, durable and dishwasher safe. This means you don't have to worry about cleaning and the tongs will always look like new, even after long use.Another highlight of the Simple BBQ tongs is the bull's head at the end of the handle, which not only serves as a decorative element, but also functions as a bottle opener. So you have everything you need for a successful barbecue combined in one practical pair of tongs.The Simple BBQ tongs are easy to use and are suitable for all types of barbecue food, from steak and burgers to vegetables and fish. With the tongs, you can turn your grilled food safely and effectively to achieve the perfect result.In summary, the Simple BBQ tongs offer high-quality construction, precise design and ease of use. They are an indispensable tool for every barbecue lover who wants to prepare their food perfectly. Whether for your own use or as a gift for a barbecue friend, the Simple BBQ tongs are an excellent choice for any barbecue fan.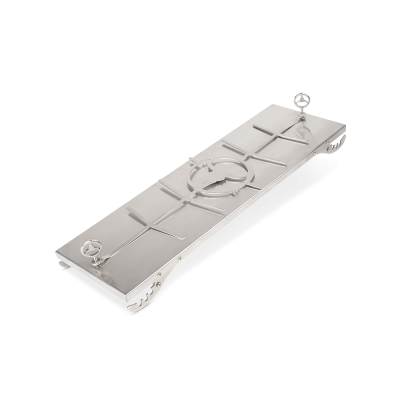 FlameBoard - The XXL stainless steel flame salmon board
The grill solarium for every fish that holds something on itself! Perfect tan, tight-fitting stainless steel corset - dishwasher safe and indestructible. Can be turned and twisted as you like: from sunburn to Adonis. Snooty? Not necessarily: the angle to the embers can be adjusted in 4 steps. No half-portion: (up to) 60 cm length make everyone full. And: not least the MoestaBBQ bull branded on the chest make the others look really pale. The Moesta flame salmon board can be mounted on the Moesta Bandit FirePlace, kettle grills & fire barrels, easily cleaned and used again and again. Moesta BBQ Flame Salmon Boards are unique because of the dimensions, as well as the materials and material thicknesses used. Easily prepare the perfect flame salmon and at the right temperature. Heat and fire cannot harm our flame salmon boards. Especially the unique taste of a salmon over an open flame will impress you. If you want to prepare the flame salmon on your bandit or fire tray, with conventional flame salmon boards you have to soak the board in water 1-2 hours before. The FlameBoard can be used immediately!SustainableWith Moesta-BBQ FlameBoards you will never have to buy replacement boards again, no matter how often you use the board. Dishwasher safeTo prevent mold and odors, you can also simply clean the flame salmon board in the dishwasher. The material quality of the holder and board is excellent and durable.Suitable for the whole salmonWith the dimensions of 604 cm x 19 cm, we have chosen the size of the Flame Salmon Board so that whole salmon fillets or salmon halves also fit on the FlameBoard.Perfect salmon over an open wood fireWith the 4-fold tilt angle adjustment on both sides of the FlameBoard you can always set the optimal heat for the salmon.Precisely fitting flame salmon boardsWhether kettle grill, Bandit FirePlace or fire bowl: The Flame Salmon Board fits. During cooking, you can also turn it 180° and you'll get an even cooking experience.Tip for the Flammlachs recipeWe like to recommend our Hocus Pocus or Orient Express as a seasoning for the salmon fillet. Add a little lime juice and brown sugar and you're ready to grill over the flame.
Grillrezepte.one - die Grillrezepteseite in Zusammenarbeit mit Moesta BBQ
Wir bieten nicht nur fantastische Produkte für Griller, sondern entwickeln auch regelmäßig neue Grillrezepte. In unserer BBQ Werkstatt in Löhne kommen regelmäßig Spitzenköche, Grillmeister und Videogriller zu Besuch. Dort entwickeln wir gemeinsam Rezepte, die dann im Grillseminar weitergegeben werden. Die besten Rezepte für den Sheriff, die BBQ Disk oder andere Moesta-BBQ Produkte werden dann auf grillrezepte.one eingestellt.