Innovation & Design aus Ostwestfalen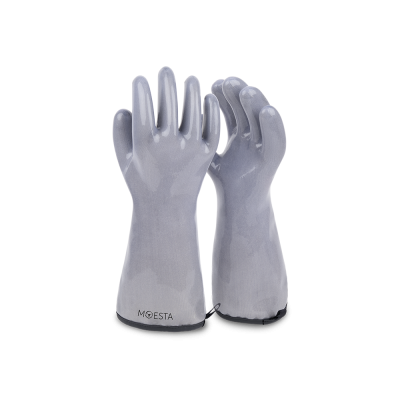 HeatPro silicone heat gloves
Grill or heat gloves rethought!Our HeatPro heat gloves are the perfect solution for anyone who loves to cook, bake or grill. Made from high-quality and heat-resistant liquid silicone, one of the most advanced oven mitt materials on the market, they offer a comfortable fit and excellent grip, even on wet or oily surfaces.The liquid silicone runs around the outside of a 3D hand mold to form the gloves with bendable fingers that are softer and more malleable in texture and design than stiff regular silicone gloves made with a 2D mold that limits and locks the shape of the gloves.Our HeatPro heat gloves can withstand temperatures of up to 250 degrees Celsius and can even withstand up to 350 degrees Celsius for a short time. With their non-slip surface and flexible fit, our gloves are comfortable and easy to wear. They are also BPA and latex free, ideal for people with sensitive skin.Another benefit of our HeatPro heat gloves is that they are machine washable. This makes them easier to clean and ensures that they are always clean and hygienic. Finally, with our HeatPro heat gloves, you can also touch the meat or other food directly and turn it easily without getting burned.Whether you're an experienced cook or an amateur chef, our HeatPro heat gloves offer a convenient and practical solution for anyone who wants to protect their hands from heat and burns. Whether you're taking the hot pot off the stove or getting the baking sheet out of the oven, our HeatPro heat gloves will keep you safe and comfortable while carrying your food.To find the right size, download our size calculator here.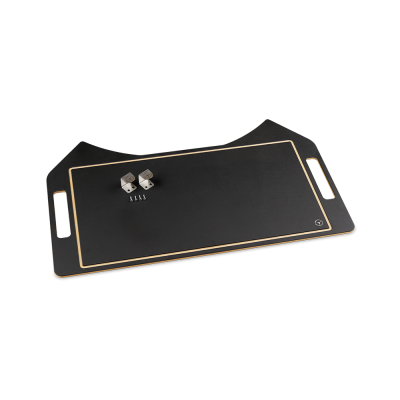 WILLIAM - Bandit FirePlace Grill Tray + Cutting Board
WILLIAM Bandit Cutting BoardThe board for the Bandit Fireplace is a practical accessory for all Bandit owners. It extends the storage area on the grill and offers enough space to safely transport meat or vegetables. The handles facilitate handling and ensure safe storage. The storage board can be used like a tablet and can be attached without tools to two clamps that are screwed to the Bandit. The board not only offers a natural surface, but is also made of cellulose, making it particularly environmentally friendly. It is waterproof and dishwasher safe, which facilitates cleaning. The high resistance and impact strength makes the tray board a robust and durable companion. It can also withstand high temperatures of up to 180 degrees and is also food safe. With the storage board XXL for the Bandit Fireplace, grilling becomes even easier and more convenient. Don't miss the chance to upgrade your Bandit with this high-quality accessory! The Bandit - the ultimate barbecue and fireplace all-rounder for your garden! Our Bandit is made of high quality Corten steel and is a perfect fit for many Moesta BBQ tops with a diameter of 57cm. It is the stable and best base for the BBQ Disk fire plate and is perfect as a fireplace on cold winter days or as a grill. The Bandit FirePlace was awarded by the expert jury of the prestigious Plus X Award 2022 in the categories of quality, design, functionality and ease of use - a real winner for the garden kitchen!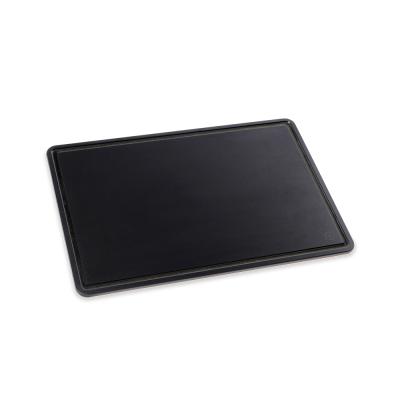 JOE - Cutting board Paperplank
JOE Paperplank Cutting Board - The perfect combination of sustainability and functionality.The Paperplank cutting board, manufactured by Moesta, is an outstanding kitchen utensil that combines environmental awareness and high functionality. Designed to offer a sustainable alternative to traditional cutting boards, it is made from recycled paper that has been processed into a durable and long-lasting material.A special feature of the Paperplank cutting board is its exceptional heat resistance. It can easily withstand hot pots, pans or other hot utensils without getting damaged. This allows you to transfer your dishes directly from the stove to the cutting board, allowing you to continue working comfortably without having to use additional supports.In addition, the cutting board is dishwasher safe, which makes cleaning and maintenance a breeze. After use, you can simply put it in the dishwasher and look forward to effortless cleaning. This will save you valuable time and energy that you can use for other things in the kitchen.Paperplank cutting board impresses not only with its practical features, but also with its aesthetic design. It is available in a classy black color that will add a modern and stylish touch to your kitchen. The black color emphasizes the elegance of the cutting board and makes it an eye-catcher in your kitchen decor.With the Paperplank cutting board, you can not only go green but also take your cooking and preparation experience to a new level. It provides you with a durable and smooth surface for cutting, chopping and preparing food. The cutting board rests sturdily on the countertop and allows you to make precise and comfortable cuts.In addition, the cutting board is hygienic and odorless. The material does not absorb odors or liquids, which means that it does not retain food residues or unpleasant odors. This ensures optimal cleanliness and hygiene in your kitchen.Paperplank cutting board is a symbol of sustainability, functionality and aesthetics. It is the perfect choice for environmentally conscious consumers who value high-quality kitchen utensils. Invest in the Paperplank cutting board and enjoy an eco-friendly and convenient cooking experience. Do your part to protect the environment while choosing a cutting board that will give you years of enjoyment.The Paperplank Cutting Board is available in three available sizes:S: 25cm x 35cmM: 50cm x 35cmL: 60cm x 40cmThe material thickness is 0.9cm, which gives the cutting board a solid and durable structure. Thanks to its eco-friendly materials and precise workmanship, Paperplank cutting board is not only functional, but also sustainable and aesthetically pleasing. Experience an innovative way of cooking with this eco-conscious cutting board that will help you make your kitchen more eco-friendly.
Grillrezepte.one - die Grillrezepteseite in Zusammenarbeit mit Moesta BBQ
Wir bieten nicht nur fantastische Produkte für Griller, sondern entwickeln auch regelmäßig neue Grillrezepte. In unserer BBQ Werkstatt in Löhne kommen regelmäßig Spitzenköche, Grillmeister und Videogriller zu Besuch. Dort entwickeln wir gemeinsam Rezepte, die dann im Grillseminar weitergegeben werden. Die besten Rezepte für den Sheriff, die BBQ Disk oder andere Moesta-BBQ Produkte werden dann auf grillrezepte.one eingestellt.